Discarded Spirits
Once Wasted, Now Treasured.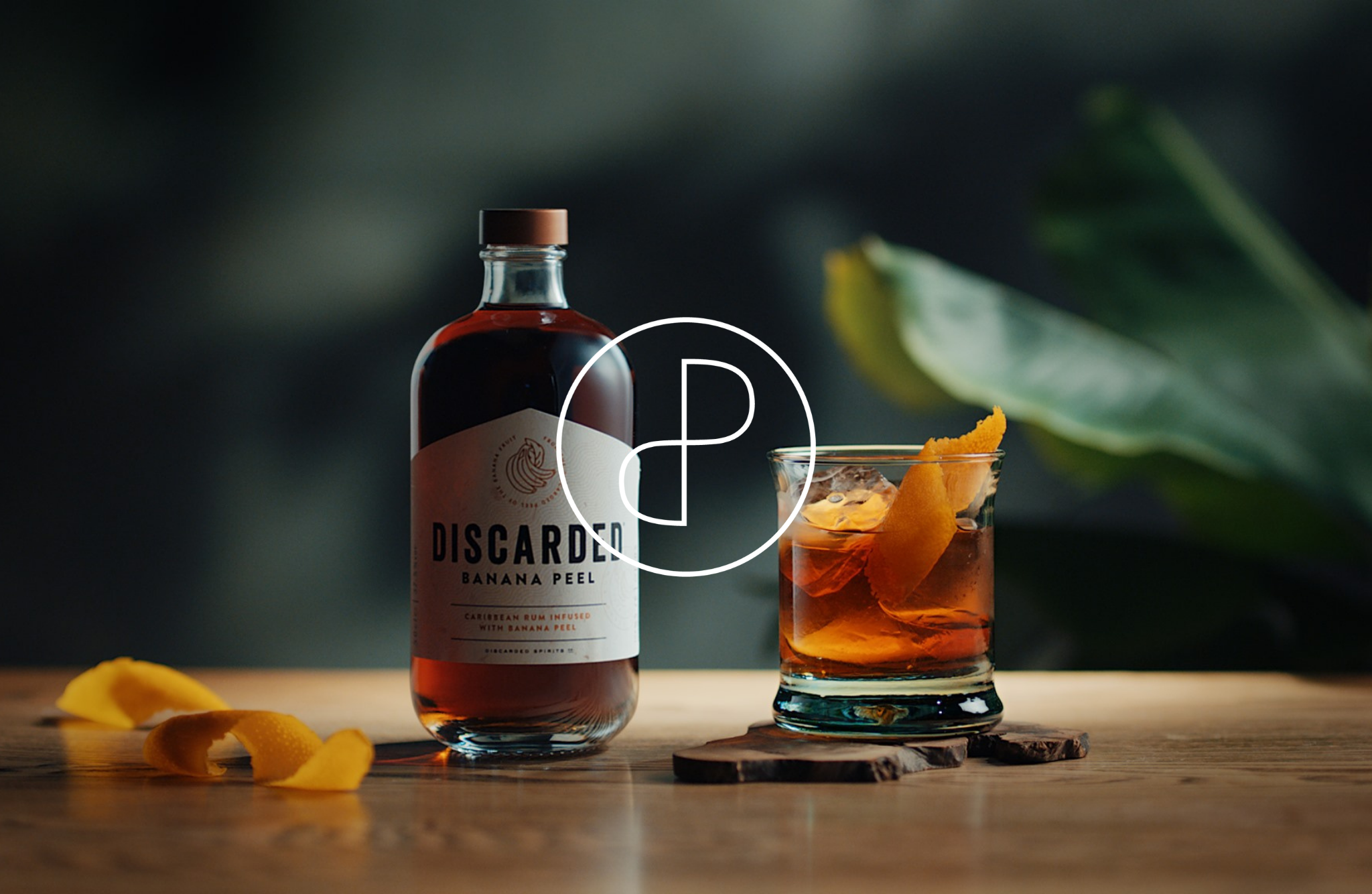 This article forms part of our Powering People and Change Project.
It'll come as no surprise to learn that we're quite fond of a good cocktail here at Blossom and even more so when we find it has been made using ingredients that would normally end up in the bin.
For this months edition of the Powering People and Change Project we managed to catch up with Sam Trevethyen, the Global Brand Ambassador for Discarded Spirits, a company reusing traditionally 'wasted' ingredients to produce some of the most delicious spirits you'll ever get your hands on. We discuss the unlikely origins of their cascara vermouth, taking action 'beyond the bottle' and out into the streets and we even get a couple of recipes for Sam's famous Zero Waste cocktails, perfect for this hot summer weather!
We've happily seen the discarded bottles popping up in more and more places over the last few months Sam, but for those new to the brand can you tell us a little bit more about what you guys do and the mission you're on?
So, we are Discarded Spirits Co, and we are a portfolio of spirits that are made from ingredients you would normally throw away (or Discard, hence the name). Our vision is to be the pioneers of Zero Waste Spirits, and we are on a mission to reverse needless waste in the food and drink industry. I guess our whole ethos could be described as a 'Trash to Treasure' approach, both with the liquids in the bottle, the bottles themselves and everything we are trying to do beyond the bottle, which is the really exciting part!!
We got really excited when we first stumbled across you guys and saw that you did a Cascara Vermouth!
Yes, so this was our first product, which we launched back in 2018, which feels like a life time ago now. The origins story on this is an interesting one – one of our Brand Ambassadors Joe Petch was given some Cascara by the team at Extract Coffee Roasters back in 2017 under the 'you like flavours, this taste awesome, see what tasty cocktails you can make with it'. Joe (as all bartenders) is a huge fan of vermouth and noticed it had been on the rise for a few years, and he decided to infuse some Cascara into some off the shelf vermouth in his shed.
The results were pretty damn good, so he took it to our internal innovation team, and the rest is history. It is worth noting that is not how we normally do innovation, but in this case it just worked. Team Innovation went and looked at how to brand, develop and bottle this liquid, as realised they could make vermouth from the sherry we use to season whisky casks. This was the birth of the idea that both the key ingredients in all our Discarded products would be things otherwise thrown away, giving rise to our concept (and hash tag) of Reuse Creatively.
Can you tell us more about what Cascara is and where the 'waste' cascara comes from that you use to produce the spirit?
So, as the coffee aficionados amongst you will know, what we call the coffee bean is actually the coffee seed, and as with all seeds, it comes from a fruit. When coffee is harvested, the seed/bean is removed from the fruit, which is often discarded. This is called Cascara, which literally means 'husk' in Spanish. Sometimes this is used as fertiliser or animal feed, however millions of tonnes every year are thrown away. As with everything we work with, the things we often throw away are full of amazing, unique and unexplored flavours, and the Cascara brings an amazing cherry and stone fruit character to our sweet vermouth.
Just like all of our products, we use two core discarded ingredients – in this case the base of our sweet vermouth is a sherry style spirit wine that we use to season whisky casks. The spirit wine goes into the cask to add flavour, before being replaced by the whisky, which then matures in the cask. After the spirit wine has been used a certain amount of time, the flavour profile has changed to the point it is no longer of use to us. Historically we would have sold this on, or even destroyed it (its unique flavour profile after spending time in a cask made this difficult) so now we champion this awesome liquid as the base for the vermouth. We add cinnamon and wormwood, before blending with the cascara extract to create an amazing fruit forward sweet vermouth.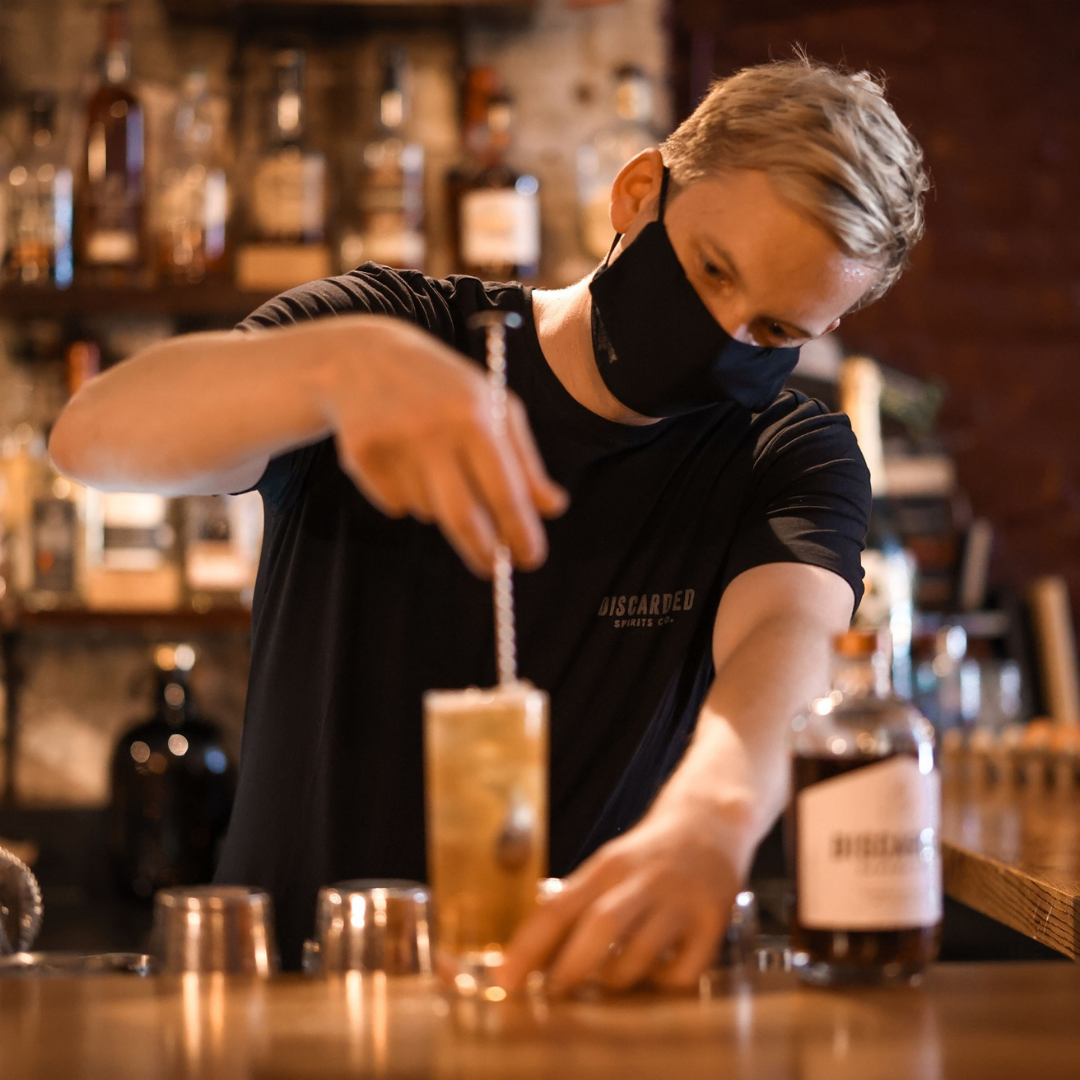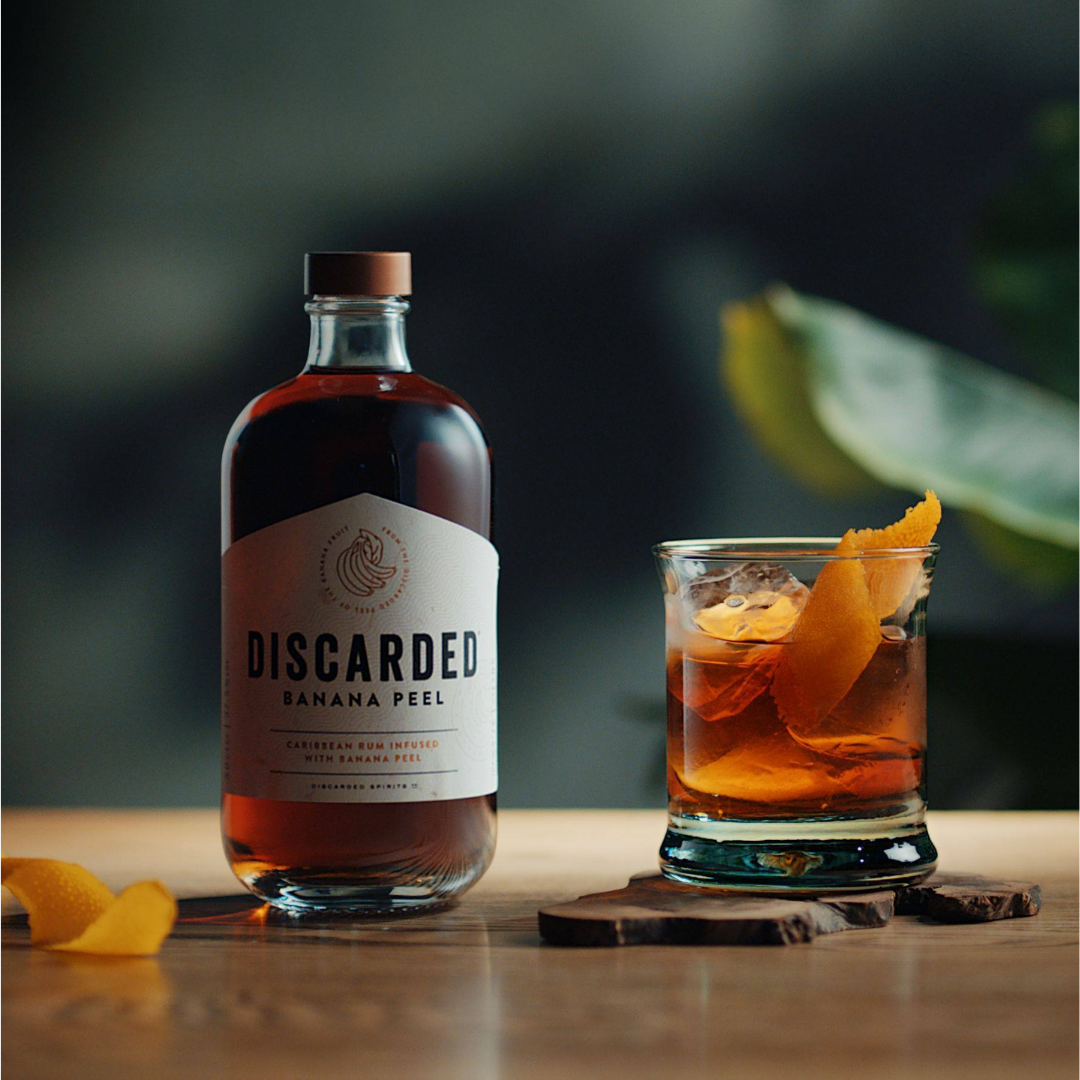 And after that you brought out Banana Peel Rum right?
After we launched we had bartenders all over the country (and the world) asking us about Discarded, and that's when we realised the potential of the brand. We wanted to bring out an amazing liquid that would be really easy to communicate to the consumer, and, arguably, there is no greater intersection between amazing, trendy flavours and something being synonymous with waste than the banana. 35% of the weight of the banana is in the peel. Bananas suffer hugely from what we call being past the 'visual sell by date' – as soon as they start to brown people throw them in the bin – 1.2 edible banana are thrown in the bin every week in the UK. And what most people do not know is they are full of flavour. Enter Banana Peel Rum.
Like all of our Discarded Spirits Co. range, our Banana Peel Rum has two Discarded ingredients. The first is a cask finishing rum from the Caribbean. This rum is made specifically for us to impart flavour into cask that will then hold whisky. What happens is the rum goes into the cask for a certain amount of time, adds flavour (and in turn absorbs flavour from the barrel), after that the rum is removed, and the whisky goes in to finish its ageing. After the rum has been used to season a cask so many times, its flavour profile has changed so much, so it is no longer fit for our purpose. Before, we would have sold this on to be used in rum blends or sometimes even destroyed it. It is amazing for us to find a second life for this unique spirt and really showcase all of the love that has gone into it. The second ingredient is Banana Peels, which we acquire from the flavour industry. When flavour companies extract banana flavour, all they use if the fruit, leading to the peel being discarded. We get our banana peels from a flavour house in the Netherlands in the form of dried banana peel chips. We rehydrate and ferment them, to really boost that flavour, before steeping them in alcohol for two weeks to extract the flavour. After that, we blend the cask rum base and the banana peel extract together to create Discarded Banana Peel Rum. The result – liquid banana bread.
Can you tell us about the Grape Skin Vodka you just released?
Try and stop me! We released the newest edition to the Discarded Spirits Co. range at the beginning of June, it is hitting bars as we speak and Waitrose all over the country form 2nd August!
We make the base of Discarded Grape Skin Vodka by distilling all the parts of the wine-making process that are normally discarded: the skins, stems, the seeds… otherwise known as the pomace – millions of tonnes of this are thrown away every year. We take this pomace and distil it up to 96.2%, creating a neutral spirit. We chose a Chardonnay grape from Spain for its exceptional clarity and its subtle yet complex flavour profile. The second discarded ingredient is something called Wine Alcohol. One of the trends we have seen in the last 10 years is the average ABV of wine has gotten lower – when they remove alcohol from wine its comes off as Wine Alcohol. This is full of all the ethers and other heavy organics compounds, which actually retains a lot of the flavour of the original grape – its essence. Typically sold on or in most cases, destroyed, we instead wanted to celebrate the exquisite essence of this Chardonnay 'wine alcohol' by blending it into our Discarded Grape Skin Vodka – creating something totally new, innovative, sustainable, and utterly delicious!
We also launched entirely new packaging for the entire Discarded Spirits Co range when we launched the vodka – the entire bottle has been redesigned from the ground up to mirror our ethos and commitment to zero waste in spirits. It is now 100% recyclable and all the elements of the bottle are made from recycled ingredients. The closure on the top is made from 100% recycled tin. The cork and bottle top are made from cork that did not make the grade for the wine & spirts industry – only about 30% of the cork processed in the sector gets used, the rest is discarded! The paper for the labels is made from something called sugar cane fasson, which is  made from the waste of the sugar industry. And the bottle is at least 65% recycled glass. This new packaging represents not only our commitment to turn trash into treasure by our fabulous liquids, but also the bottle they come in.
You've been taking to the streets recently as 'Discarded Zero Waste Warriors' collecting bags of litter from public spaces. What was the motivation behind this project? And is it something that is going to continue this year?
This is an awesome lead on from the last question. The Zero Waste Warriors are one of the initiative we are working on that take place 'beyond the bottle', which is where our mission to 'reverse needless waste within our industry' really comes into play. We believe the biggest way to make an impact is taking the opportunity to educate, inspire and help change behaviour by talking.
When the bars reopened, we wanted to support the community in Soho by helping keep the public spaces clean, and also highlight the amount of single use PPE that goes to waste. We also have some masks made of recycled plastic water bottles produced, and are always handing them out to anyone that wants them! Our entire approach is education, engagement and advocacy, both with people in the industry and the consumer, showing them how they can bring low waste and zero waste tips and techniques into their lives. We have a range of 3 core Zero Waste techniques that make use of some of the biggest elements of waste behind the bar and in the home. Check out how you can create this Used Citrus Cordial from used citrus husks, this Spent Coffee Liqueur from used coffee grounds and this Zero Waste Dry Vermouth from flat sparkling wine! We will be taking the Zero Waste Warriors to a few other events this year, going bigger, getting the public involved and tying into awesome events where people can come and drinks some fabulous Zero Waste cocktails – follow us on @discardedspirits on Instagram to stay up to date!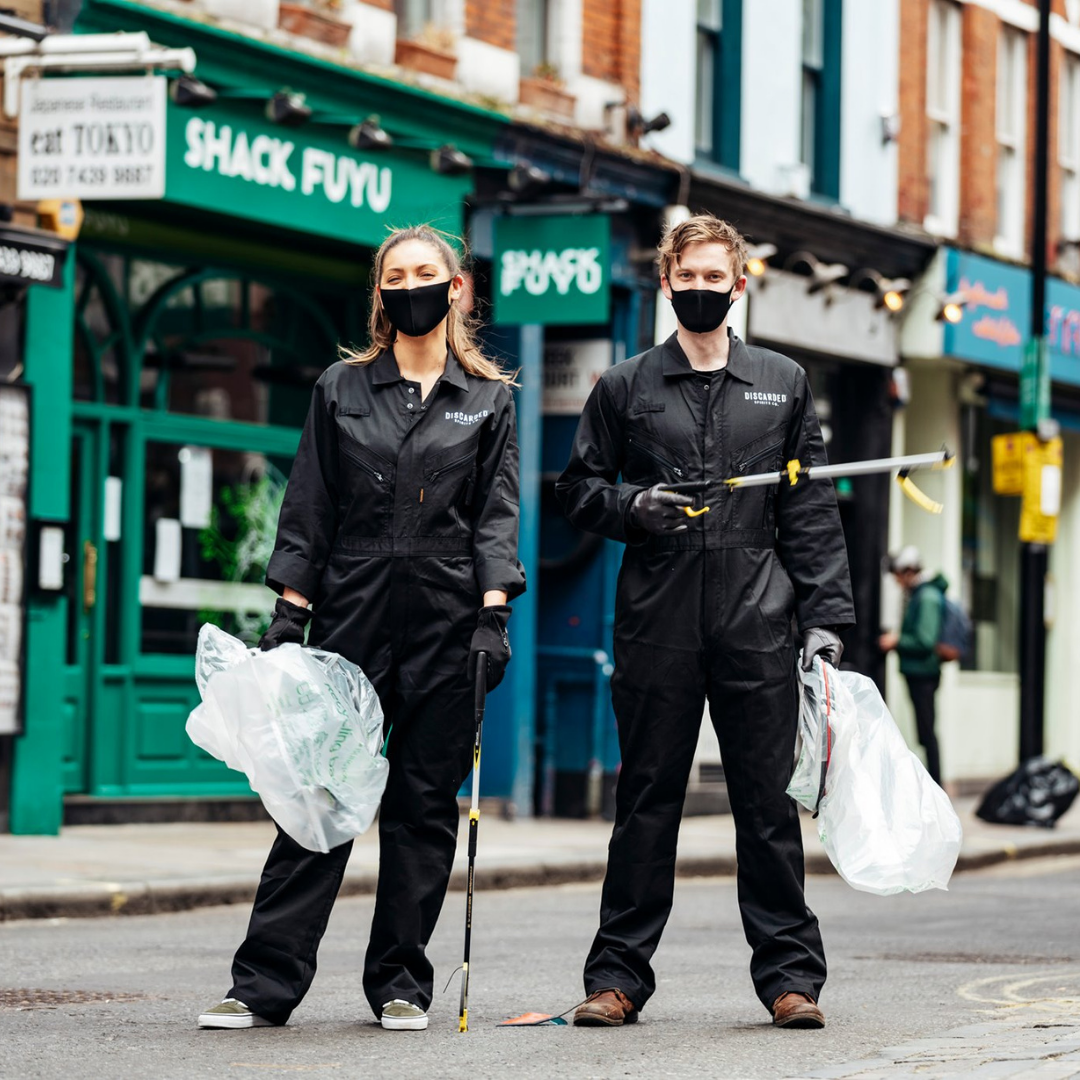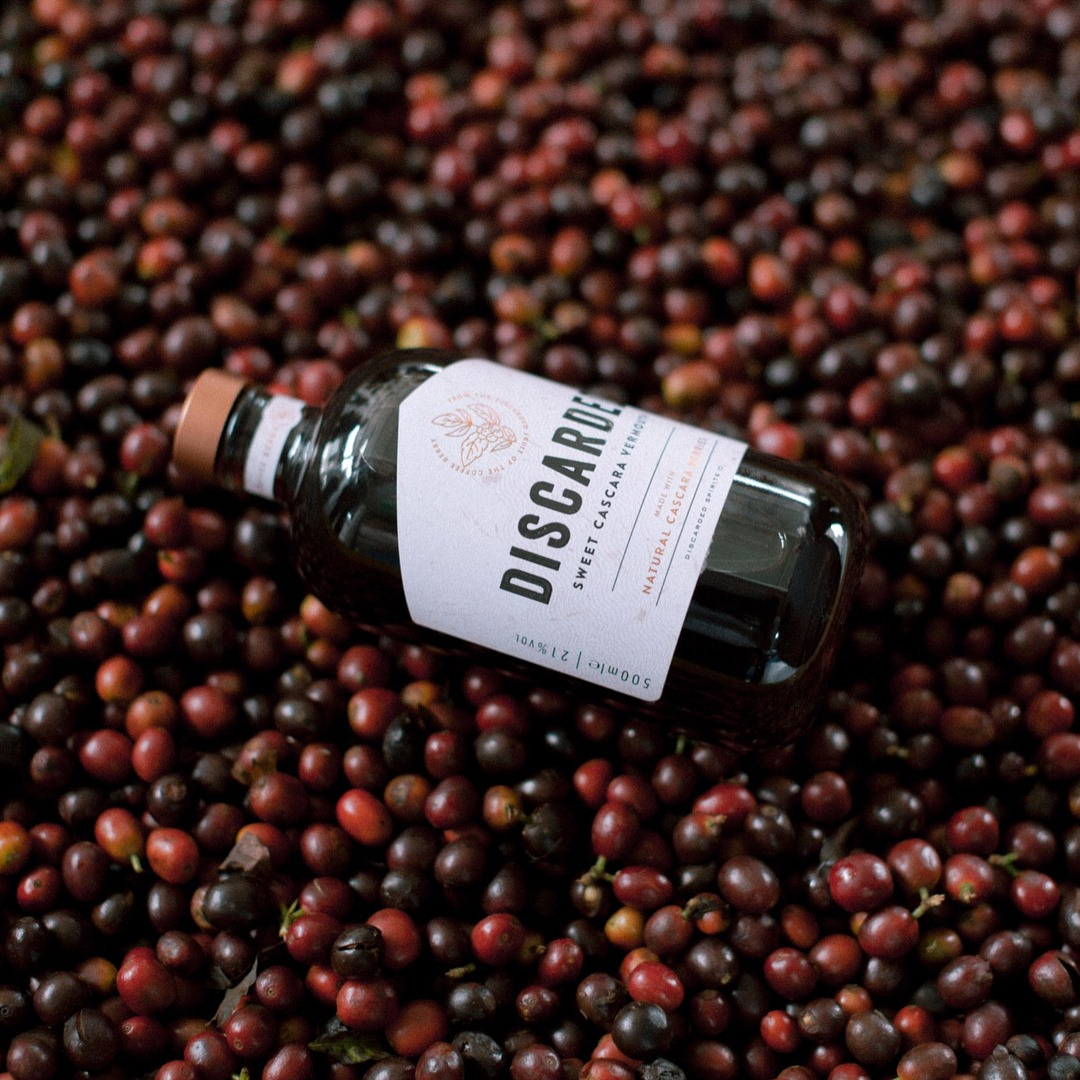 Favourite zero waste cocktail?
Can I pick three? Each of our products can be mixed with one of the three zero waste techniques mentioned above. The Grape Skin vodka makes one the best martinis I have ever had, and the edition of Zero Waste Dry Vermouth just makes it the classiest way to enjoy a Zero Waste cocktail.
Grape Skin Martini
The quintessential vodka cocktail, showcasing the Chardonnay Vodka and zero-waste Vermouth giving a second life to flat sparkling wine. A zero-waste cocktail never looked this elegant.
Ingredients
50ml Chardonnay Vodka
20ml Zero-waste Vermouth
How to make
Stir over ice, and strain into chilled coupe or martini glass.
For me, Bananas make me think of the beach, the sun, and nothing takes me there more than a Mai Tai. Want to know what's even better – a Banana Mai Tai using some used citrus cordial!!
Banana Mai Tai
A sustainable take on one of the classics of Tiki culture, showcasing the complexity of the Discarded Banana Peel Rum, as well as a citrus cordial made from discarded citrus husks.
Ingredients
50ml Discarded Banana Peel Rum
25ml Citrus Cordial
15ml Orange Liqueur
10ml Orgeat
5ml Discarded Cascara Vermouth
How to make
Shake ingredients over ice.
Strain into a rocks glass filled with ice.
Garnish with lime wheel and mint sprig.
Last, but by no means least, we couldn't not talk about a vermouth made with the waste of the coffee industry without talking about the granddaddy of coffee cocktails – the espresso martini. The sustainable subtlety of a Used Coffee Liqueur and the fruity sweetness of the cascara create an espresso martini like no other.
Espresso Martini
A powerhouse of sustainability by reusing spent coffee grounds in the coffee liqueur made with our Discarded Grape Skin Vodka, and then sweetened with our Discarded Cascara Vermouth.
Ingredients
50ml Discarded Grape Skin Vodka
25ml Spent Coffee Liqueur
25ml Discarded Cascara Vermouth
Ground coffee garnish
How to make
Shake over ice, and strain into a chilled coupe glass.
Garnish with ground coffee.
Any other fun projects you've been working on despite this last year of chaos?
Follow us on @discardedspirits and me on @samontherockz – we have some amazing things in the pipeline!
You can find out more about Discarded Spirits here.
Or you can read previous editions of the Powering People & Change Project here.