Grain & Knot
Beautiful hand carved objects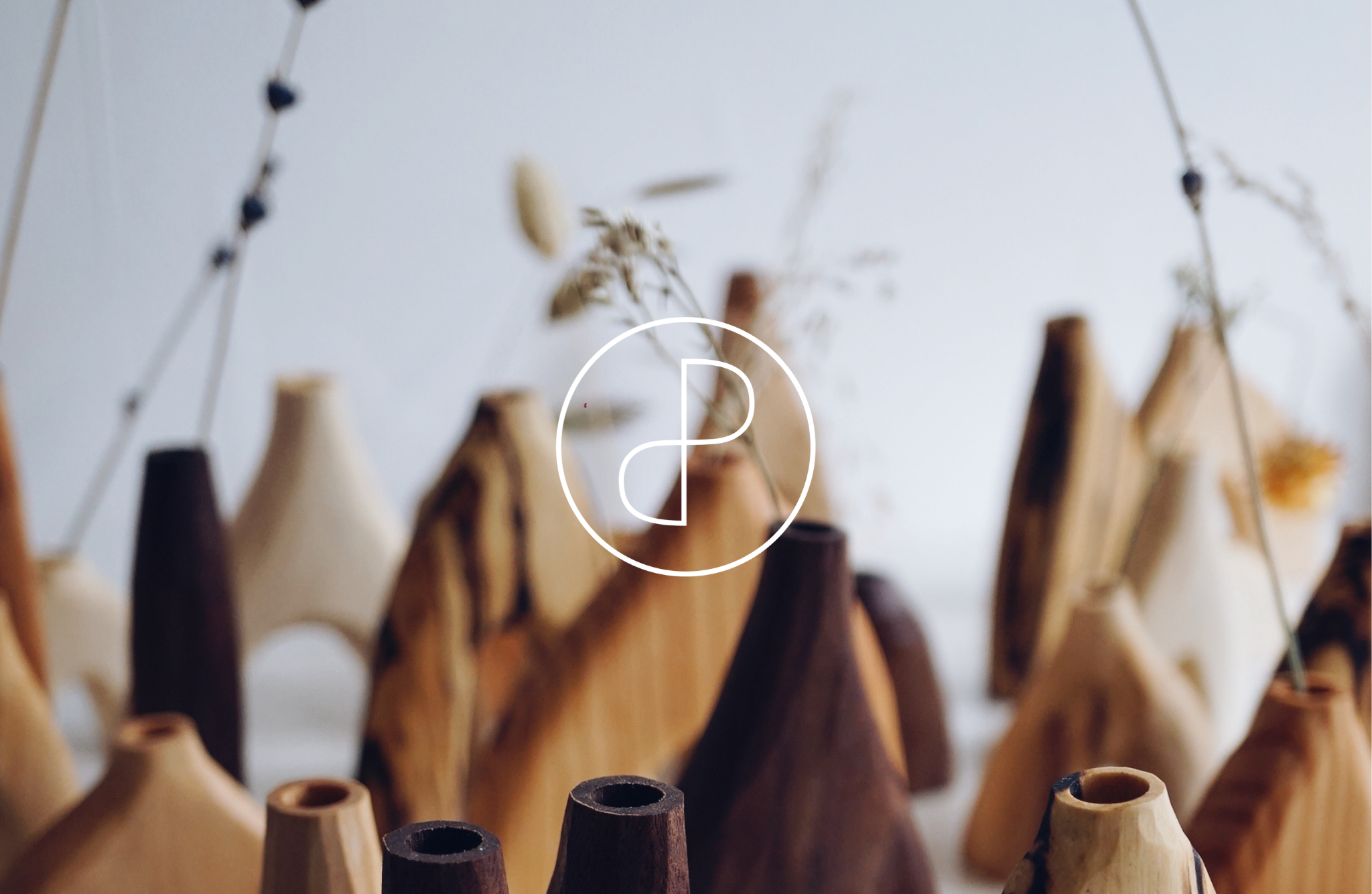 This article forms part of our Powering People and Change Project.
With many of us putting our holiday plans aside for the year and choosing instead to invest in our homes, it's now as important as ever to remember to support the smaller creative independents and keep a close eye on where and how those items are being produced.
For this months edition of the Powering People and Change Project we had a chat with the lovely Sophie Sellu about Grain & Knot, her one woman business creating beautiful hand carved objects from sustainable, storm fallen and reclaimed timber. We discuss the inspiration she finds in nature for her designs, the difficulty of finding the time to stay creative as a small business and the satisfaction that comes from giving a piece of wood a life after it was otherwise deemed as waste.
We're one of the many folks who are a little bit obsessed with your instagram Sophie, but for those new to your work could you tell us a little but more about what you create? How did Grain & Knot come into being?
That's so kind thank you! It happened almost by accident, I had been woodworking at school but that's as far as it went for a long time. After uni I fell into retail, visual merchandising roles and before I set up my own business I was in Concept design and trend forecasting. I knew I wanted to work with my hands again and took up various one day workshops and carving was something that I was instantly hooked on. I was made redundant twice in the space of 2 years and after the second took the leap and decided to work for myself to see if I could make carving into my full time career.
So it was a venture that started out as a hobby?
I never set out to become a full time wood maker in wood, I just want to try some new things and I am really lucky that it stuck and has gone well! It's a really repetitive, therapeutic process that I can get really lost in.
We know you're passionate about only using materials that are reclaimed or sustainably sourced locally. Can you tell us a little more about where do you get your timber from?
Initially working with reclaimed timber was the only way I worked. I had some old bits of furniture in my parents garage that I turned into utensils and chopping boards. At that time I didn't have any access to freshly chopped trees, so I made using reclaimed wood as my focus. It's often a challenge, can be hard to work but there is something so special about giving a piece of wood a life after it was otherwise deemed as waste.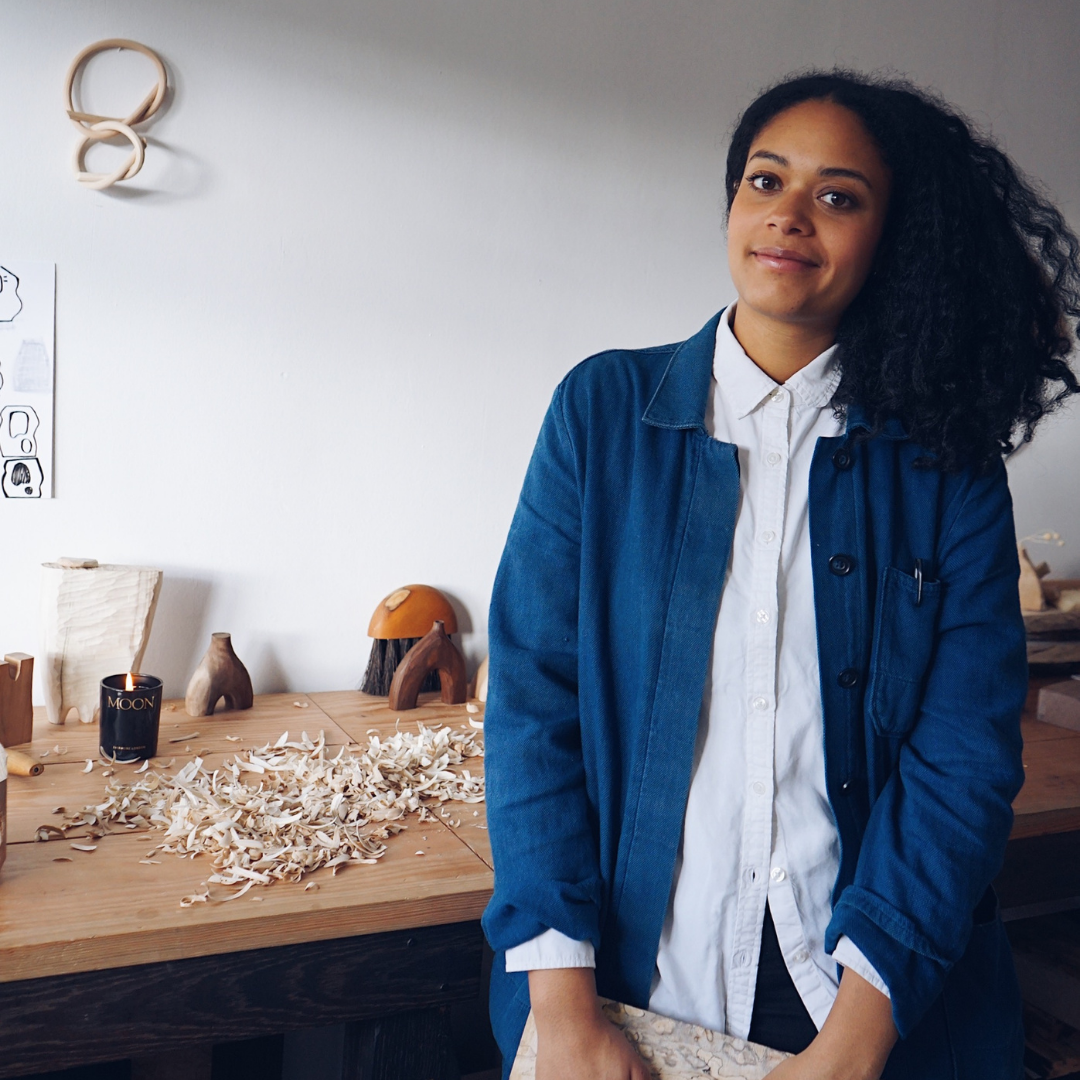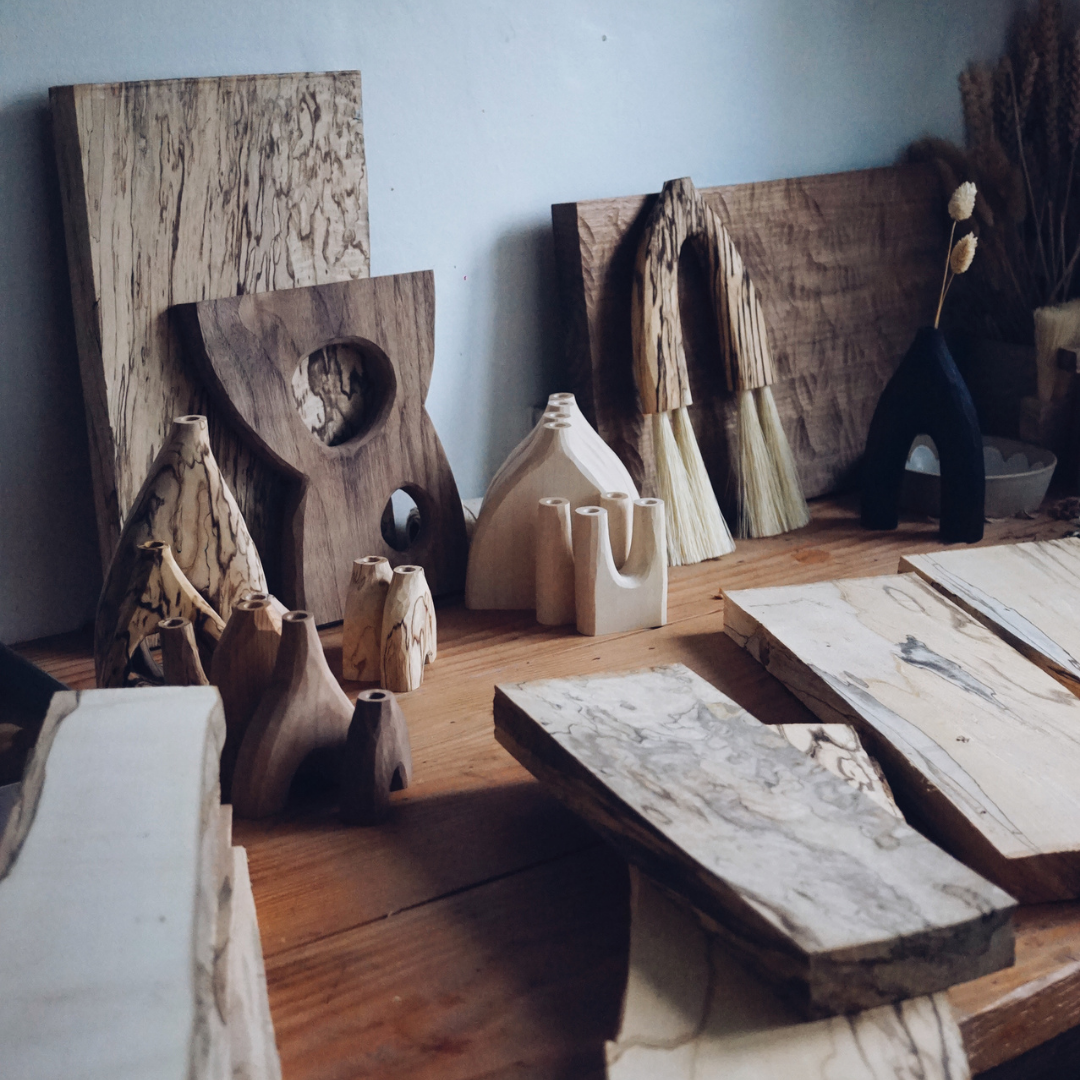 Every element of the creative process seems very environmentally considered, from only using plant-based fibres for your brushes to reusing off-cuts into new products, have you always worked in this way or did this approach develop over time? And why is this way of working so important to you?
I think every business should make this their focus! I always try to make the most of every piece of wood that comes into my workshop, and it's always a fun challenge to see what I can make from the off cuts. My entire collection of vases first came about from the box of offcuts in my workshop. I think it's important to only use natural fibres, it makes my items accessible to everyone, and good for the planet. When I started I used broken bits of furniture, timber from house renovations and any timber I could get my hands on from tree surgeons I would pass in the street.  These days, I have access to a family run woodland that my boyfriend Jack manages. There is public land that runs alongside and any overhanging, dangerous or storm damaged trees that have to be taken down, we use. We make sure to use as much of each tree as possible. Nothing goes to waste and trees aren't taken down just for the sake of it.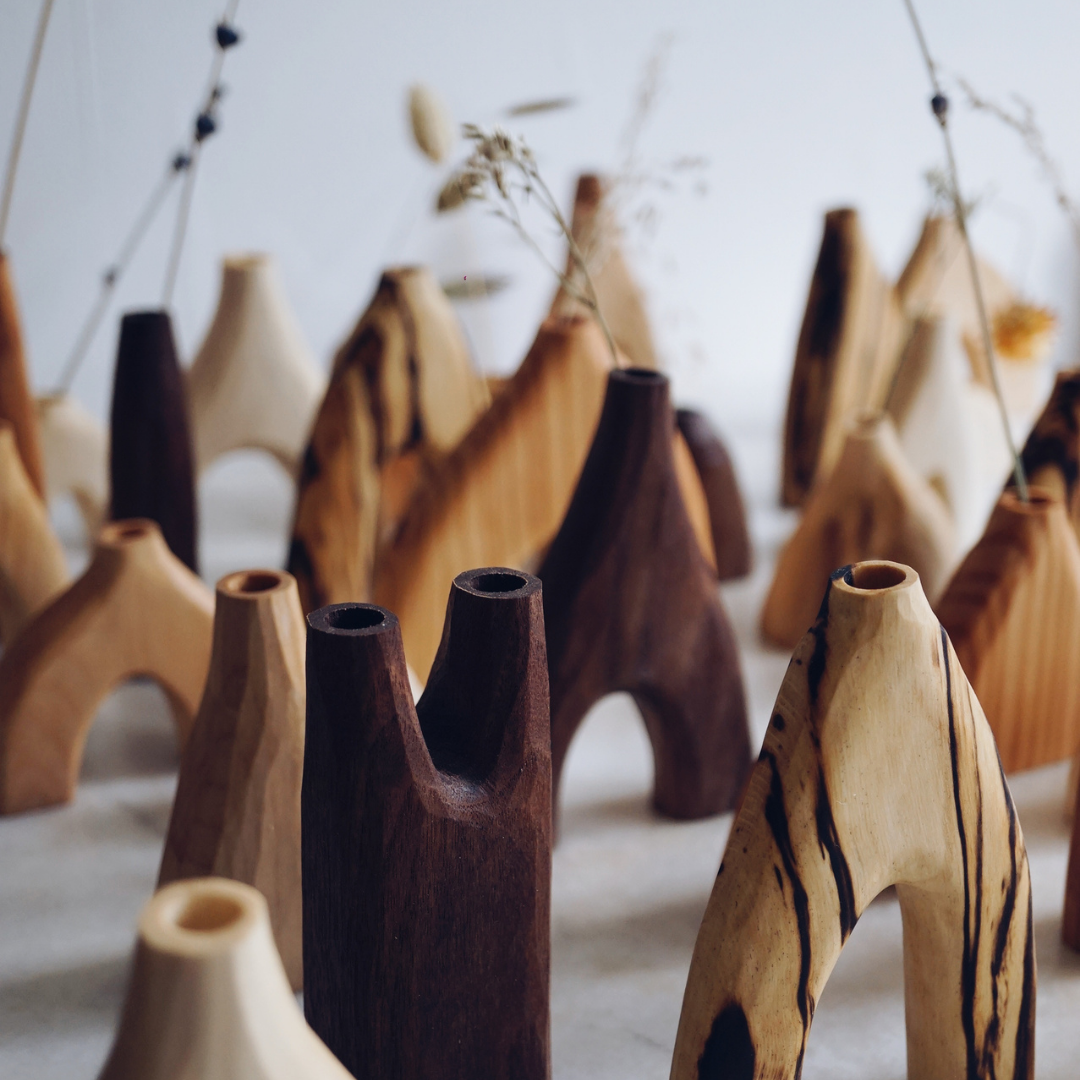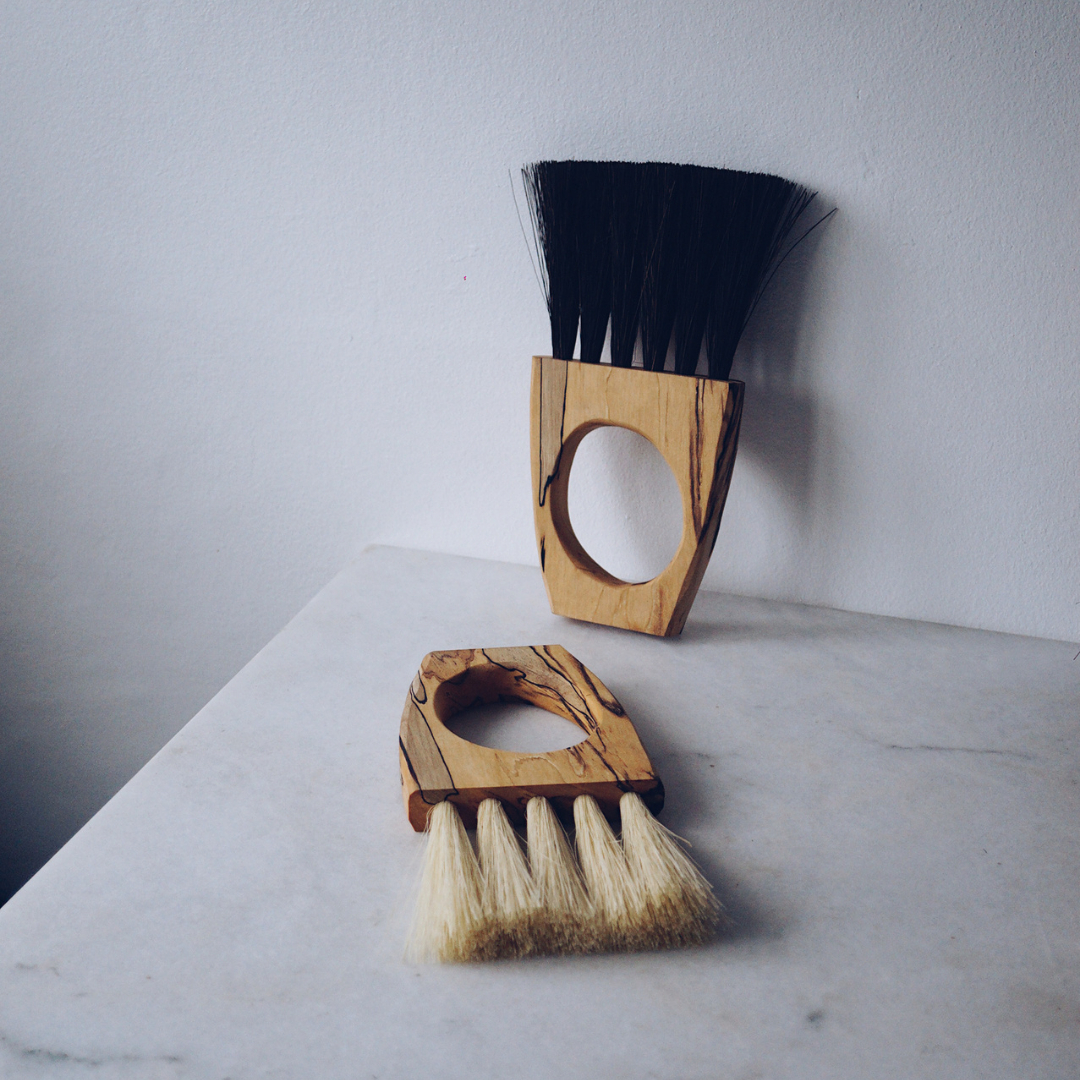 What is your favourite wood to work with?
I love any timber with beautiful spalted grain patterns which feature heavily in my work. My favourite to work is Sycamore, it's incredibly easy to work and has a beautiful pale tone that will sit happily sit in any home interior.
You only release a limited number of items in a new collection every couple of months on a first come, first serve basis. How come you decided on this model?
I have always made small collections of work that sit well together. It came about by getting bursts of creativity that were often stifled by admin, and the less exciting parts of running a creative business. I would find that all I would want to do is make but having to update my website and packaging up parcels every few days got really tiring. By having my work available only a few days a year really allows be to focus on the product, develop my style and I have the flexibility to work on other projects as well as my own work. I am very lucky that I now have such dedicated customers that my work sells out very quickly. With each item being unique, time consuming to make and with only being able to have a limited output I fell into selling in collections rather than having work available all the time.
How does the design process work for a new collection?  Do you find much of inspiration in nature?
Always! I find my best ideas come during long walks outside. I try to make the most of the natural materials I use and show off every detail that the timber has to offer. I love the fact that wood can have such varying pattens and shades. All my designs start as simple line drawings to work on shape. Once I am happy with the shape I make sure that I get the scale right by making paper or card cut outs before cutting into the wood. I don't like getting things wrong so there is always lots that goes on behind the scenes before the final piece.
You can find out more about Sophie's work here.
Or you can read previous editions of the Powering People & Change Project here.