Clement Knives
Transforming waste into knives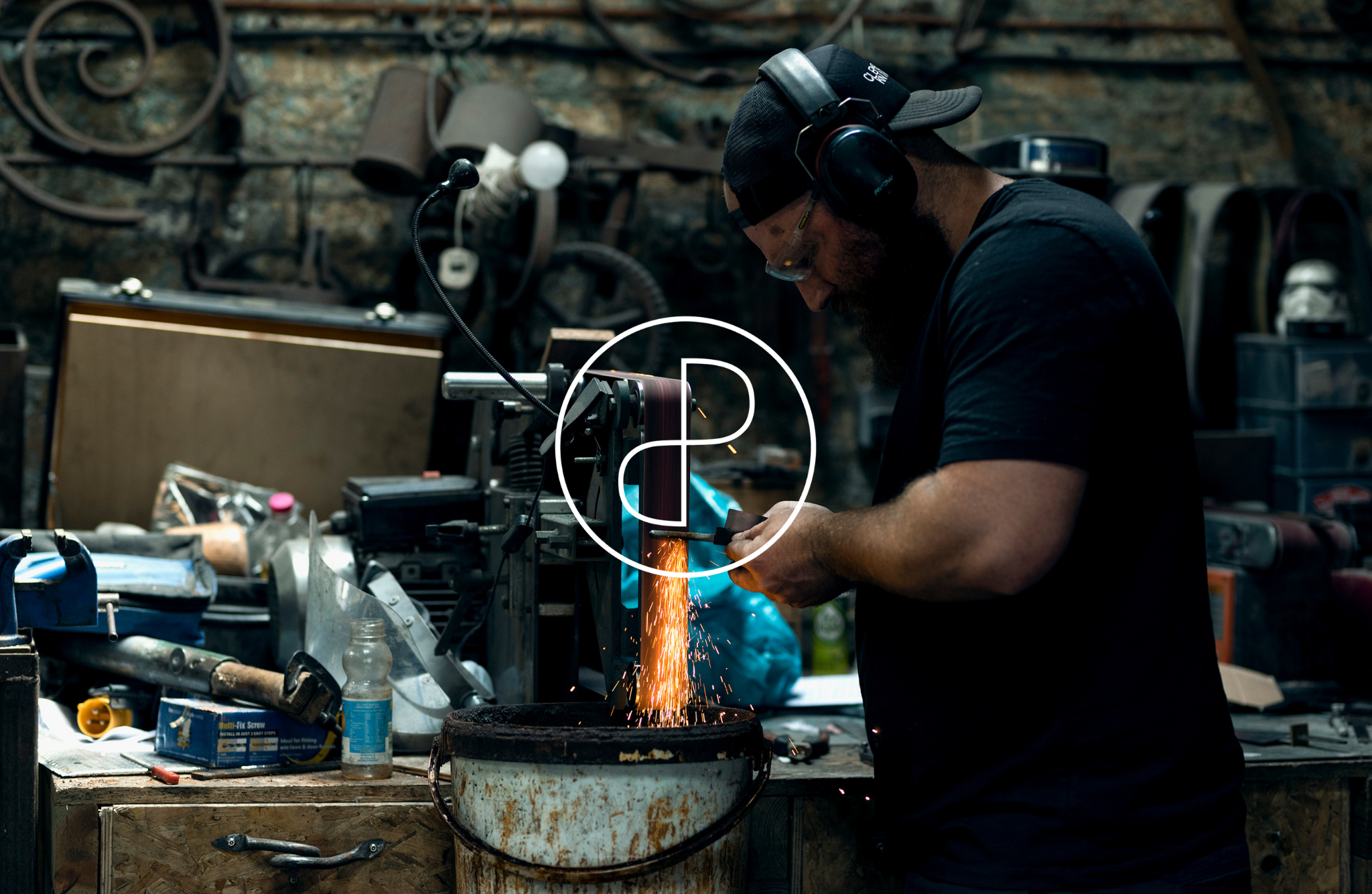 This article forms part of our Powering People and Change Project.
Exploring new and innovative ways of reducing and reusing our waste is at the heart of what we do here at Blossom and we're always on the look out for inspirational forms of sustainable circular design.
This month we talked with Tim Westley, bladesmith and founder of Clement Knives, a company dedicated to transforming unwanted plastic and metal waste into stunningly beautiful hand-forged knives. We discuss Tim's path from the kitchen to the workshop, some of his biggest inspirations along the way and the art of salvaging materials out of the local canal.
We've had quite a few friends rave about your knives to us already Tim, but for those new to the brand could you tell us a little more about Clement Knives? Have you always been a bladesmith or did you start out life in the kitchen?
Clement Knives is a one man show; I love locking myself away and working with my hands. I started out my journey in kitchens in Leeds while at uni getting a sort-of relevant Fine Art degree. After uni I continued to work as a chef and absolutely loved it, even jumping back into the kitchen while travelling in Australia. But when I came home to London, I wasn't very interested in the lifestyle of 60+ hours a week anymore. Through my art and always working with materials like wood and steel, I landed on the idea of making knives. It would keep me connected to chefs and food, but also help me to live life more on my own terms. I love the process of building a knife, from lumps of steel connected and shaped by heat and hammer, to refining the edge on a whetstone; I use as many reclaimed materials as I can and work in a way to produce as little waste as possible.
You mention on your website that you're inspired by other makers and restaurants who focus on zero waste, do you have any companies in-particular that inspired you to start Clement Knives? We think we share a mutual inspiration in Silo who massively inspired what we do here at Blossom.
Silo and its founder Doug McMaster was the first person I showed my recycled plastic handle to about 4 years ago! One of my biggest inspirations for trying to make a recycled handle was seeing rubbish floating around in the river – it probably helps to know that I'd moved onto a narrowboat in West London, so there was always stuff floating past the windows. The boat move helped me to lower my bills and try my luck as a knife maker and a makers' lifestyle, but it wasn't until I went full-time with the business that I had time to play with the rubbish I was collecting and I haven't looked back. I really look up to the revolution that is Precious Plastics; they are really inspiring people working to put plastic waste back into people's hands. Another big inspiration is watching TV shows like Ben Fogle's New Lives in the Wild, which often focuses on people living less impactful lives. Again through getting to know Silo, I really like what Potters Thumb do making glass porcelain plates from crushed wine bottles. Other makers like Kittiekipper on Instagram weaves amazing things out of ghost nets, and Still Life create stools from waste plastic too.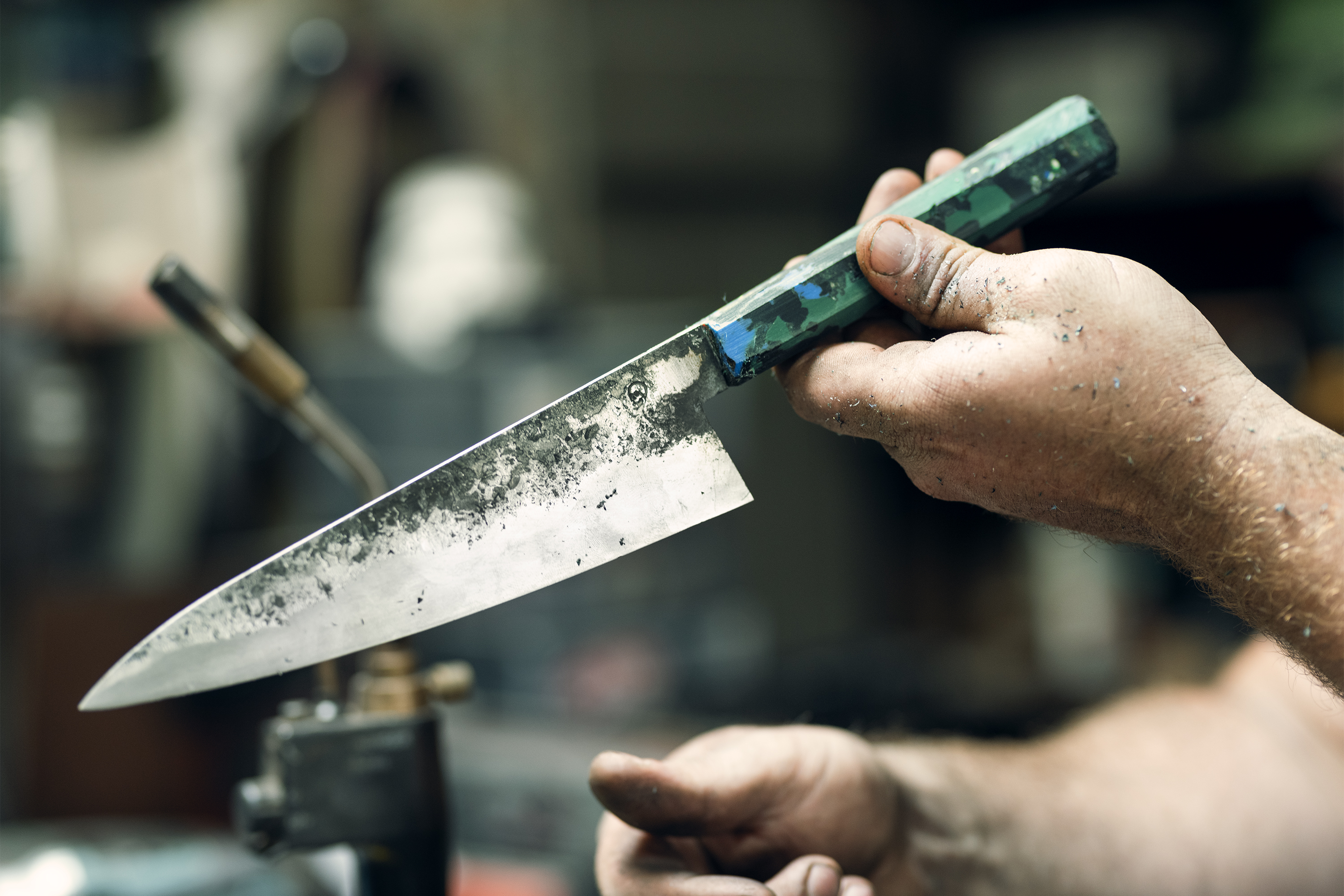 Where do you source the plastic and metal waste you use to create the knives? We saw on your instagram that some of the knives were made using spent shotgun cartridges!
Lots of the rubbish is just collected by myself and other peoples' litter picking. The shotgun shells come from a shooting range; they usually have to send them off at a cost to be recycled but then they're often burned or mixed with other materials to make building materials which is a shame, because it means they can't be recycled again. I'm very keen on keeping the handles recyclable so I don't mix the types of plastic or use any glue. The main knives I make are 3 layered and the soft steel on the outside that makes the knife durable often comes out of the canal, where people go magnet fishing and leave their finds on the towpath – I pick it up, clean it and start forging.
Can you talk us through the process from receiving an order through to production? Do you recycle the plastics yourself?
I don't take custom orders and only make to sell, which means I can sell everything I make and don't have to worry that the sizes aren't exactly what a customer has ordered (and therefore the knife might be wasted). I make everything in house, so for the plastic that means cleaning, chopping and shredding it before then melting and moulding into a handle. I'm a bladesmith first and forging the knives is the part of the process I love most. The different stages of forging, shaping and sharpening take about 20 hours in total; lots of my equipment is second-hand and I'm always looking in antique shops and yards for old anvils and hammers.
Have you got any exciting projects you're working on for 2021 despite all the lockdowns?
Yes there are a couple I'm excited about. One is in its early days, exploring making handles out of aluminium cans; you don't have to look far from a path in London to find an old beer can. I'm also collaborating with Still Life on a dough scraper design again using waste plastic. Later in the spring I'm really going to be expanding the number of knives I sell for charitable purposes, but you'll have to wait and see for more on that one!
You can find out more about Clement Knives here.
Or you can read previous editions of the Powering People & Change Project here.
Photography: XDB Photography by Xavier D.Buendia